2020 TAAB Symposium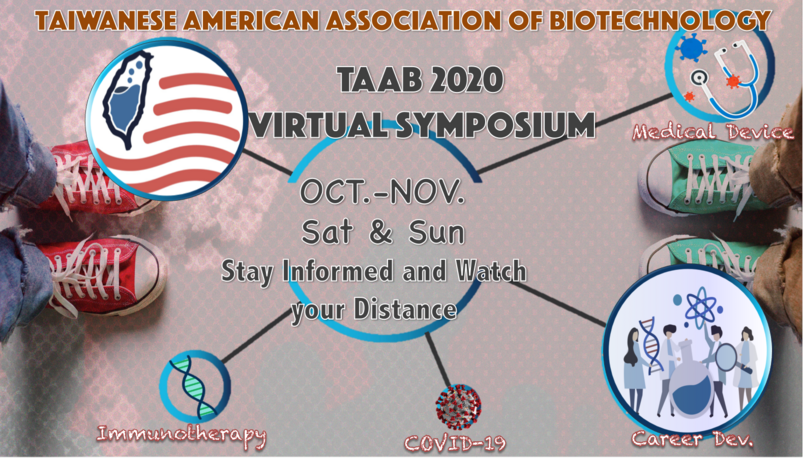 About this Event
This year we will discuss breakthroughs in the areas of detection and treatment for SARS-CoV-2, innovative medicines in immunotherapy and medical devices. Speakers from the academic, public, and private sectors in the US and Taiwan will share their experiences and knowledge on those topics. In particular, Shih-Chung Chen (陳時中), Commander of Central Epidemic Command Center (CECC) and Minister of Health and Welfare, and Tsung-Yen Chen (陳宗彥), Deputy Commander of CECC and Deputy Minister of the Interior, will share their success stories on Taiwan's response to COVID-19.
We are also very excited that there will be sessions specifically dedicated to career development, aiming for the need of young professionals.
Registration information
Schedule
2020 Symposium Main Program (Parts 1&2) (Time Zone: ET)
October 03 (Sat) 16:00-18:00
Opening Remarks & Immunotherapies



Opening Remarks
Mark Kao, Ph.D. President, TAAB
Challenges and Opportunities in the Chemistry, Manufacturing & Control of Gene and
Cell Therapies
David Y.H. Chang, Ph.D., Chief Executive Officer
WuXi AppTec Advanced Therapies Business Unit
The Establishment of Immuno-Oncology as the 4th Pillar of Cancer Treatment
Arvin Yang, M.D. Ph.D., Vice President and Head
Hematology Clinical Development at Bristol-Myers SquibbType
October 10 (Sat) 15:30-17:45
Medical Devices/Materials


From Patient Charts to Term Sheets: Building A Medtech Startup from An Idea
Albert Huang, M.D. Chief Executive Officer at Allotrope Medical Inc.
AI Empowered Telehealth model
KJ Yang, Ph.D.Chief Executive Officer at KuraCare
Rapid Generation of Production Cell Lines with Superior Titers and >99% Monoclonality
for Complex Antibody Molecules
Ke-Chih Lin, Ph.D.Applications Engineer at Berkeley LightsOpening Remarks
October 17 (Sat) 16:00-18:00
COVID-19 Overview and Virus-Host Interaction


COVID-19 Therapeutics and Vaccine Development Status Update
Mark Kao, Ph.D.President, TAAB
COVID-19 Genomics and Beyond
Sheng-Chih (Peter) Jin, Ph.D.Assistant Professor, Washington University School of Medicine
Pre-existing T Cells in Vaccination and Relevance to SARS-CoV-2
Laura Su, MD. Ph.D. Assistant Professor of Medicine, University of Pennsylvania
October 24 (Sat) 16:00-18:00
COVID-19 Clinical Frontline


NYC in the Time of COVID-19
Ee Tay, M.D. Clinical Site Chief for NYC Health+Hospital/Bellevue Pediatric Emergency
Services, Assistant Professor of Emergency Medicine and Pediatrics at NYU School of Medicine
Integrated Clinical Pathways: Bringing Evidence and Guidance to the Frontline in the
COVID-19 Pandemic
Cheng-Kai Kao, M.D.Hospital Medicine Physician, Associate Chief Medical Information
Officer, University of Chicago Medicine
October 25 (Sun) 21:00-22:00
The Story of Taiwan National Health Command Center

The Story of Taiwan National Health Command Center
Tsung-Yen Chen 陳宗彥
Deputy Commander of Central Epidemic Command Center & Deputy Minister of the Interior
Political Deputy Minister, Ministry of the Interior, Taiwan
October 31 (Sat) 20:00-22:00
COVID-19 Detection, Vaccination and Beyond

Diagnosis of COVID-19: Can We Catch Them All?
Alex Hung, Ph.D.Head of Protein Science Department Mesa Biotech
An Integrated Platform for Virus Detection and Vaccine Production: A novel Solution
for COVID-19
Yu-Chan Chao 趙裕展, Ph.D.Research Fellow at Institute of Molecular Biology, Academia
Sinica; Distinguished Research Fellow, Ministry of Science and Technology
November 01 (Sun) 20:00-21:00
The Story of Taiwan National Health Command Center
The Story of Taiwan National Health Command Center
Shih-Chung Chen 陳時中
Commander of Central Epidemic Command Center & Minister of Health and Welfare
Minister of Health and Welfare, Taiwan
2020 Career Development Panels (Part 3) (Time Zone: ET)
November 07 (Sat) 16:00-17:30
Leaving Your Comfort Zone: First Industry Job

Opening Remarks & Introduction
Hsiao-Ling Hung, Ph.D. Senior Director, Regulatory Sciences at Bristol-Myers Squibb
Panelists
Chiamin Liao-Bullaughey, Ph.D. Scientific Expert at Century Therapeutics
Cheng-Han James Chung, Ph.D.Postdoctoral research fellow at Pfizer
November 14 (Sat) 16:00-17:00
Strategy for Career Advancement

Panelists
Xianglin (Alex) Zhai, Ph.D.Scientist at GlaxoSmithKline
Yu-Chih Jay Hsu, Ph.D. Director at WuXi Biologics
November 21 (Sat) 16:00-17:30
Alternative Career Paths: A World Outside the Lab


Panelists
Takashi Nakamura, Ph.D.Candidate, University of Pennsylvania
Brandon Chan, Ph.D.Patent Attorney, Duane Morris LLP
Shaoyu Chang, M.D.MPH, Associate Director, Innovation and External Research, Vertex Pharmaceuticals
December 05 (Sat) 16:00-17:00
Starting your Lab-Journey of Becoming A Principal Investigator

Panelists
Catherine Pei-Ju Lu, Ph.D.Assistant Professor Hansjorg Wyss Department of Plastic
Surgery and Cell Biology, New York University School of Medicine
Stanley Chun-Wei Lee, Ph.D.Assistant Professor Fred Hutchinson Cancer Research Center
2020 Symposium Booklet